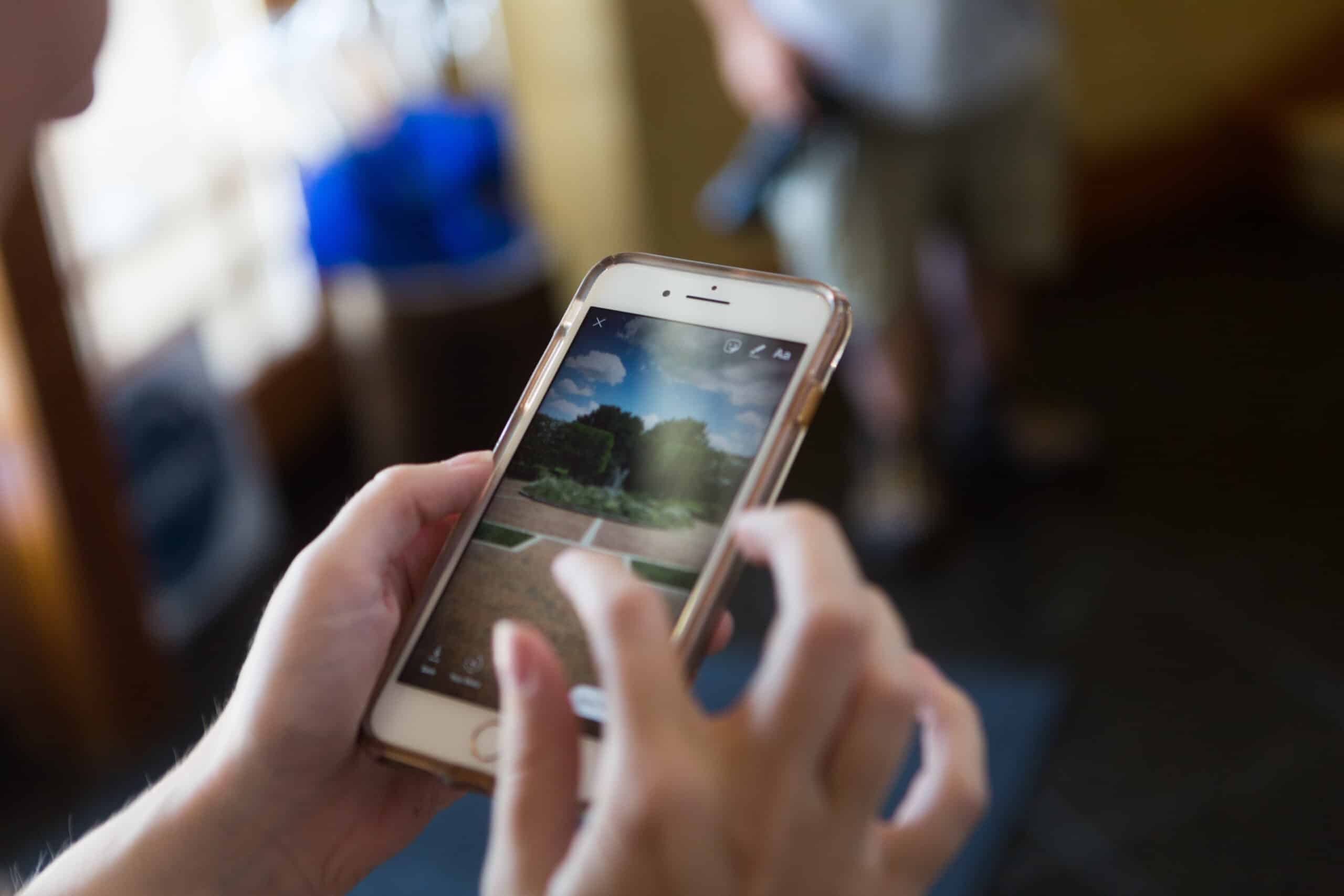 21 Jun

The Horse Country Summer Bucket List

Announcing the Horse Country Summer Bucket List!

One of the best parts about our slice of paradise here in Kentucky is that there is so much to do along with horse farm tours. We encourage all guests to check out the local communities that our members call home, and our Summer Bucket List is a great way to keep track of some fun things to check out while you are here in the Bluegrass.

Guests who complete at least five items from our summer bucket list and post about those items will receive a Horse Country t-shirt! See below for all terms and conditions for the contest.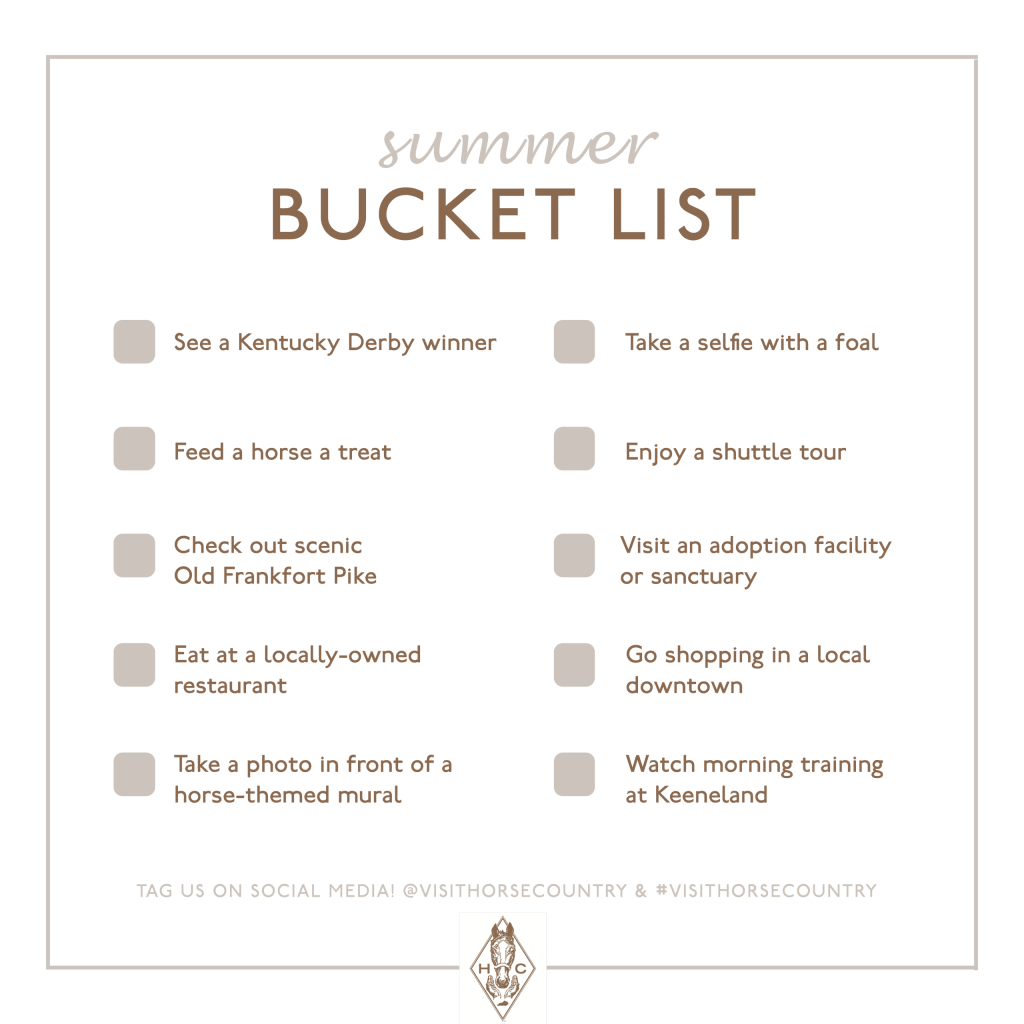 Feel free to download the list, or check out the written list below.
SUMMER BUCKET LIST
See a Kentucky Derby winner
A bucket list item for anyone, horse racing fan or not! Here in Horse Country we are lucky to be the home of a number of Kentucky Derby winners, and our members have opened their gates to welcome guests and meet these champions. The following farms are home to Kentucky Derby winners: Coolmore at Ashford Stud (American Pharoah, 2015 and Justify, 2018), Darby Dan Farm (Country House, 2019), Jonabell Farm (Street Sense, 2007 and Nyquist, 2016), Spendthrift Farm (Authentic, 2020) and WinStar Farm (Always Dreaming, 2017).
While showings depend on the health and schedule of the horse, our members strive to show fan favorites on tours.
Feed a horse a treat
It's always a good day when you get to pet a horse, and an added bonus when you get to feed a peppermint, carrot or another treat! Our interactive tours allow for guests to get up close and personal to the horses, and some of the tours even allow you to feed the horses!
Check out scenic Old Frankfort Pike
One of the most scenic roadways in Kentucky is Old Frankfort Pike, which begins in Lexington at the legendary Secretariat statue and runs through Fayette, Woodford and Franklin counties. The road passes through picturesque Horse Country and passes farms like Three Chimneys Farm, Airdrie Stud, and the yearling divisions of Lane's End Farm and Godolphin.
Eat at a locally-owned restaurant
Kentucky's local food scene is one of our favorite things about the Bluegrass state. Lots of restaurants in the area feature locally grown food products including veggies, fruits, meat products and more. We're all about fresh, tasty meals and highly recommend anything owned by Ouita Michel (Wallace Station, Midway Bakery, Zim's Cafe and more). VisitLex has a great list of restaurants in Lexington and the surrounding area.
Take a photo in front of a horse-themed mural
Here in Central Kentucky we celebrate the horse in many ways, including murals and other community art installations. VisitLex offers a mural challenge for visitors interested in exploring street art in Lexington, including a few equine-themed murals, found here. Some of the surrounding cities also have murals including a Secretariat mural in downtown Paris, a Horse Country mural in downtown Versailles and a mural featuring Taylor Made Farm in downtown Nicholasville.
Take a selfie with a foal
Let's be honest… what's cuter than a young foal? These little ones are usually incredibly eager to meet new friends and pose for selfies. Our mare and foal nursery farms provide ample opportunities to meet these friendly horses.
Enjoy a shuttle tour
On a shuttle tour, guests get to venture through the farm on an electric shuttle, getting all of the bluegrass views one could want. Typically these tours focus on mares and foals, but a few locations (Lane's End Farm, Spy Coast Farm and WinStar Farm) also visit stallions as a part of the tour. You can find shuttle tour availability here.
Visit an adoption facility or sanctuary
Our nonprofit members do incredible work to ensure that all horses have a quality life through retraining, rehoming and providing lifelong sanctuary. Multiple locations retrain Thoroughbreds and other breeds for new careers, providing them with the foundation to enjoy life as a riding horse, including the Kentucky Equine Adoption Center, New Vocations and the Secretariat Center. TRF at Chestnut Hall is a unique sanctuary farm that is home to horses who did not go on to a second career after leaving the racetrack, and instead serve as ambassadors for the Thoroughbred breed.
Go shopping in a local downtown
Whether you're looking for home decor, art, fashion or just a window shopper, there's lots of great shopping in central Kentucky. We recommend checking out downtown Midway or Versailles for shops, bakeries and restaurants, both small towns with lots of shopping options!
Watch morning training at Keeneland
Some things are worth getting up early for, and morning training at Keeneland is absolutely one of those. Seven days a week, 365 days a year, Thoroughbreds train on the main track at Keeneland – and the track is open to the public! Enjoy workouts and then head to the track kitchen for a delicious southern-style breakfast.
Be sure to stay tuned to our Bit by Bit blog for more information on things to do in the area relating to our Summer Bucket List. Even if you don't complete the whole list, we would still love to see how you are spending your summertime in Horse Country, and hope that you will check out some of the activities we have suggested.
See below for the terms & conditions for the giveaway.
Guests who complete at least five of the ten items listed on our 'Summer Bucket List' graphic and submit photo proof are eligible to receive a piece of Horse Country apparel.
Please submit proof by posting photos on social media of each bucket list item, tagging Horse Country and using the hashtag #VisitHorseCountry. For example, in the caption or comment of your post say 'Enjoying my shuttle tour! #VisitHorseCountry @VisitHorseCountry".
Once you finish the Bucket List, email us at

[email protected]

and we will check your posts. If all items have been completed we will send a Horse Country t-shirt your way!
Contest begins June 8th at 8am ET and ends on August 31 at 12:59pm ET.
One entry will be accepted per guest.
Please be safe and mindful of your surroundings when taking any photos, and follow the direction of your tour guide when applicable. All state and local laws apply.
Facebook, Instagram and Twitter are in no way affiliated with this giveaway.
This contest is hosted and solely affiliated with Horse Country.