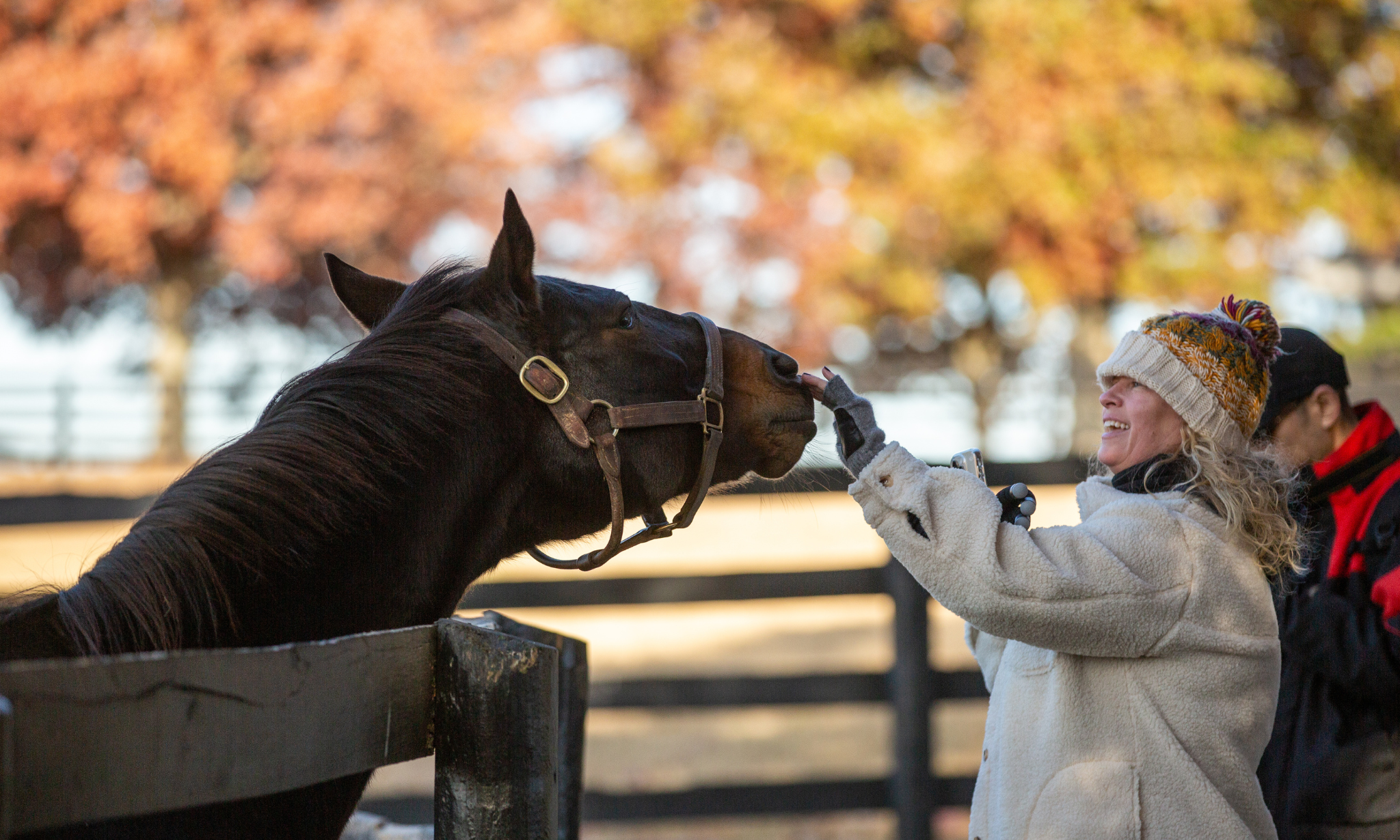 05 Oct

Top Five Things to Experience in Horse Country this October

There's so much to fall in love with this time of year in Horse Country! Racing at Keeneland, unique experiences and a showcase of off the track Thoroughbreds are just a few of the things that make October a special time in Central Kentucky. Check out our top five can't miss experiences for this month!
#1 Keeneland
October is synonymous with the Keeneland race meet, which will take place Oct. 6 – 28. Racing kicks off on Friday, Oct. 6 and will take place Wednesday – Sunday throughout the rest of the month. First post is around 1 pm each day, and all tickets (including general admission) must be purchased in advance of your arrival.
Horses take to the track daily from 5:30am – 10 am for morning training, which is open to the public year-round. During morning workouts you might see horses jogging, galloping, breezing or schooling in the paddock. There's a variety of ways that horses prepare for their future races, and you'll get a front row seat to all of the action.
On Saturdays in October, Keeneland will also host Sunrise Trackside, an event for families to experience the sights and sounds of morning workouts.From 8am – 10am, there will be activities for children including face painting, games, photo ops and a meet and greet with Buckles, the Keeneland mascot! Mini tours will also be available during Sunrise Trackside, starting from the welcome stand near the paddock.
Looking for a unique way to experience the Keeneland race meet? There are a few different ways to tour Keeneland, all of which can be found here.
#2 The Glory of Spendthrift Farm Experience
Join us for the second annual Glory of Spendthrift Farm Experience on October 18th at 12pm. Guests will celebrate the best of modern day Spendthrift Farm and dive into its glorious past with guest tour guides John Williams, former farm manager, and Mary Perdue, author of Landaluce.
This exciting opportunity includes two hours of exploring the iconic 'Nashua Motel' stallion complex's past and present occupants, a presentation and book signing, and a visit to the Spendthrift's B. Wayne Hughes Visitor Center, itself a showcase of Spendthrift history and achievements.
Williams, who managed Spendthrift when it was home to over 40 stallions including Seattle Slew, Affirmed and Nashua, will offer behind the scenes glimpses into the superstar horses who helped Spendthrift to become one of the most prestigious breeding farms in the world.

Perdue, author of 2022 Dr. Tony Ryan Book Award finalist "Landaluce: The Story of Seattle Slew's First Champion," will share her research into the farm's history, including its colorful founder Leslie Combs, as well as its fabled broodmares, and many Spendthrift-bred champions.
Tickets can be purchased for this event by clicking here.
#3 Retired Racehorse Project Thoroughbred Makeover
The Thoroughbred Makeover is a multi-day horse show and symposium showcasing recently retired ex-racehorses who have transitioned into new careers as riding horses. The event takes place October 11 – 14 at the Kentucky Horse Park in Lexington, with the Finale and crowning of the Thoroughbred Makeover Champion taking place on Saturday, October 14.
The Thoroughbred Makeover displays the versatility of the Thoroughbred horse, with hundreds of horses competing in a variety of disciplines including show jumping, eventing, polo, ranch work, barrel racing and more.

Some of our members will be participating in the 'ASPCA Right Horse Adoption Barn', where potential adopters can meet and try adoptable Thoroughbreds. The Kentucky Equine Adoption Center and Second Stride will both have a group of horses in the 'Adoption Barn', and we'll be rooting on graduates of both of these facilities, as well as New Vocations and the Secretariat Center, throughout the competition!
For more information on the Thoroughbred Makeover, please visit the Retired Racehorse Project website here.
#4 Horse Farm Tours
We couldn't leave off horse farm tours when compiling our favorite experiences coming up this October! Our members are hosting a wide array of tours ranging from hands-on experiences with mares and young horses, in depth looks at equine care, behind the scenes tours of stallion farms and more.
Not sure where to start? Our best recommendation is to visit the Book Your Tour page to get started. From there, tours are broken down into categories as well as tours by location. If you're still having a hard time choosing which one to book, you can always give our concierge team a call at (859) 963-1004 or email us at [email protected]. Our dedicated team of local experts will help find a tour best suited for your group.
#5 The Heart of the Turf: Racing's Black Pioneers Exhibit at the Keeneland Library
The Keeneland Library is a wealth of information for lovers of the Thoroughbred – with resources spanning centuries of the sport of horse racing. Their current exhibit, the Heart of the Turf: Racing's Black Pioneers highlights the lives and careers of 80 African American horsemen and women from the mid-1800's to present day. Photographs, artwork, video interviews and more bring to life the featured horsemen and women, preserving and amplifying their legacy and impact on Thoroughbred racing as we know it.
The exhibit runs through December 8 at the Keeneland Library, located on the grounds of Keeneland. The Library is open to the public from 8:30 am – 4:30 pm, Monday through Friday.