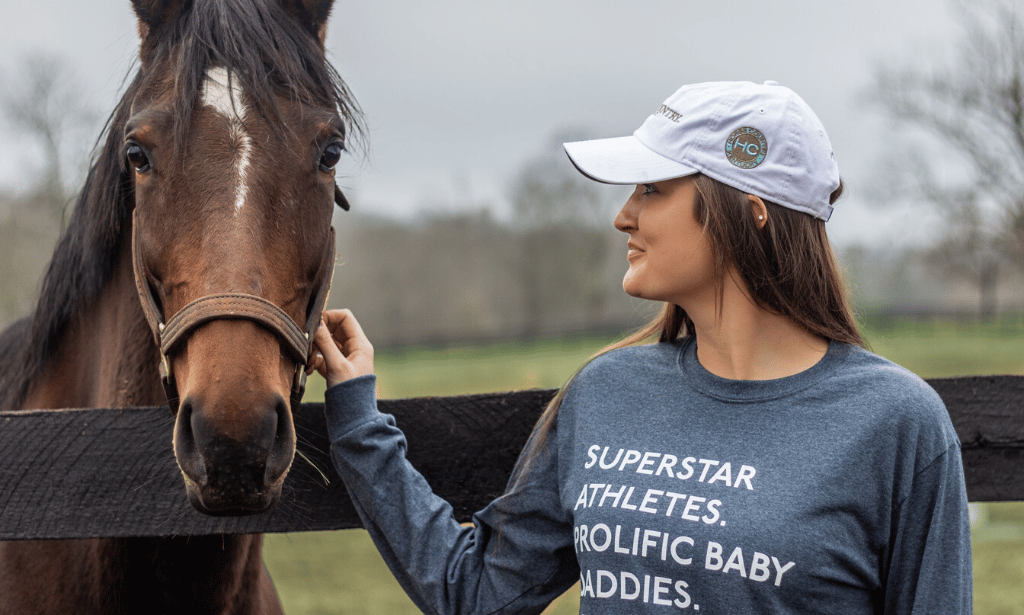 21 Nov

Horse Country Holiday Gift Guide

Looking for Christmas gift inspiration for the horse lover in your life? Lucky for you, our members have just what you need right in their gift shops. We've split up the list of gift ideas by…
Die-hard horseracing enthusiasts
Horse Country connoisseurs
Potential equine adopters
Whatever category you identify with, we have just the thing for you and your shopping list. And don't forget – a tour in Horse Country always makes for a lovely gift too!

Lane's End Farm
For all the Zenyatta fans in the house – I mean who isn't – Lane's End has great gifts honoring the Hall of Fame mare, including hats and tees, like this eye catching option pictured here. Plus they have great Lane's End branded gear too! Check out their online gift shop here.
Interested in a tour? While Lane's End isn't offering public tours this winter…brrrrr… they do have some private availability and will be back in Spring 2023! You can book here.
---
Breeders' Cup 2022
Breeders' Cup's online gift shop is a great spot for any fan of the World Championships. Their shop includes apparel, housewares and some high end gifts as well. Plus they have items from 2022 Breeders' Cup at Keeneland on sale! Commemorate an incredible Breeders' Cup Classic performance from Flightline with a purchase from the Breeders' Cup shop here.
---
Spendthrift Farm
Spendthrift has an incredible collection of Authentic gear including this snazzy pullover, a perfect outer layer for that biting winter wind. They also have a swoon worthy collection of apparel and housewares perfect for any horse lover's holiday shopping list. Visit their online gift shop here.
If you join for a tour a Spendthrift you can shop in their Visitors Center – book here! Tour tickets are required to shop in Visitors Center.
---
Darley America
Sport your favorite Darley stallion cap this holiday season. In particular, this stylish number will keep you cozy and it's a perfect fit for 2016 Kentucky Derby winner, Nyquist, named for NHL player, Gustav Nyquist. Take a look at their online gift shop here.
Godolphin will be hosting tours through the winter at their stallion station, Jonabell Farm, and their mare division, Gainsborough Farm. Get a hat with your favorite stallion's name and then come visit him! Book here.
---
WinStar Farm
WinStar Farm has a great selection of hats and apparel from their star studded stallion roster, but we just had to share this quilted jacket! It's trendy and feels like part of a WinStar uniform – so if they're your team, then kit up! Check out this jacket and more on their online gift shop here.
WinStar also has a few tours available through the first week in December, you can visit their gift shop after your tour. Book here, and if you can't visit this winter, mark your calendars for Spring 2023!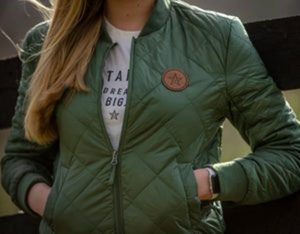 Mill Ridge Farm
Quickly becoming known across Horse Country and beyond for their iconic carrot couture, Mill Ridge has recently stocked up on these bad boys. These are a personal favorite of the Horse Country team and they'd make a great gift for any horse lover! Aside from these, Mill Ridge has a great offering of carrot adorned apparel and hats. Find your pick on their online website here.
Or if you feel like feeding horses some real carrots before you buy your carrot themed apparel, visit Mill Ridge Farm this holiday season and make your purchase in person. Book here!
---
Keeneland
Keeneland's gift shop is a thing of beauty – from apparel to home wares and everything in between! Honestly, it was hard to pick just one thing, but we do love this set of prints. Keeneland's gift shop located on their grounds is open to the public and they also have Keeneland Mercantile located in downtown Lexington, or you can shop online here. Be sure to confirm their business hours before visiting!
And Keeneland is hosting tours through this holiday season, book your tour here and be sure to stop by the gift shop after your tour.
---
Visit Horse Country
From trips to the farmer's markets to your upcoming beach vacation this wintery season – Horse Country's tote bag will fit right in. It's a beautifully structured jute bag with durable handles and the Horse Country logo imprinted on the front. Or check out our superstar tees or co-branded member hats this holiday season, you can find it all here.
And if you're think of gifting a tour this holiday season, you can find gift certificates here.
---
Kentucky for Kentucky
I know, I know… what's with all the socks? Well, you know what they say, no hoof no horse and it all starts with a comfy pair of socks! Enter Kentucky for Kentucky's attention grabbing pair, which well honor what helps make Central Kentucky the Horse Capital of the World, the Thoroughbred breeding industry. You can find these and some other fun Kentucky themed gifts on their online store here, or if you're in town, be sure to check out their Fun Mall off Bryan Ave. Be ready for some fun, eclectic gifts and to be clear, we don't recommend visiting their shop to the faint of heart!

Here at Horse Country, several of our team members grew up on the back of a horse. While some of us have the ability to continue riding today, for those of us who can't, we "window shop" on the social media channels of our sport horse and Thoroughbred aftercare members.
In particular, Kentucky Equine Adoption Center, New Vocations, Secretariat Center, and on the fanciest end, Spy Coast Farm, all have horses available for purchase or adoption. If you're in search of a new addition to your stable or just want to drool over their adoptable horses, we couldn't recommend their social media channels enough!
Please note if you are serious about purchasing or adopting a horse of any breed, skill level etc, we recommend extensive research and training beforehand. You must go through the members' program and prerequisites to successfully purchase or adopt a horse.
Also, our aftercare facilities, the Kentucky Equine Adoption Center, New Vocations, Secretariat Center and Thoroughbred Retirement Center at Chestnut Hall are all 501(c)3 non-profit organizations. A donation to any of them in pursuit of quality care for horses here in Central Kentucky would be a great gift! PLUS they all have a gift shop too – plenty of ways to gift this holiday season!
TRF at Chestnut Hall is also hosting a Holiday Designer Showcase from December 2nd through December 10th, tickets can be purchased online!