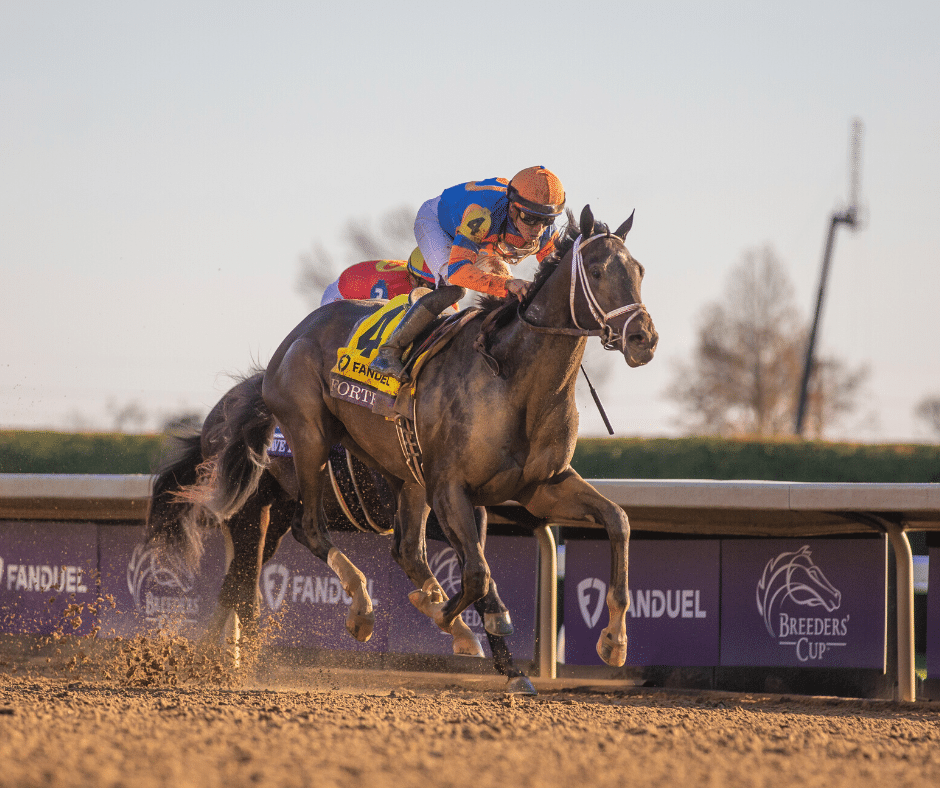 05 May

Horse Country Connections: 2023 Kentucky Derby

The first weekend of May brings the eyes of the world upon Kentucky. The G1 Kentucky Derby presented by Woodford Reserve is the most iconic race in North American Thoroughbred racing, and one of the most recognizable races in the entire world.

While the Kentucky Derby is often symbolized by Mint Juleps, big hats and high fashion, at the heart of it all is the horse. For 149 years, the Derby has represented the hopes and dreams of countless horsemen and women whose goal is to one day be victorious in the run for the roses.

A number of factors make the Derby a unique race – the race is only open to three year old horses (therefore horses only have one shot at running in the race), up to 20 horses can enter the starting gate (the biggest field of race in North America) and the race is run at a mile and a quarter (a longer distance than the entrants have run previously). Along with the huge crowd and fanfare that go along with America's most popular horse race, it takes a special horse to win this race.

This year, 19 Thoroughbred colts will enter the starting gates on Saturday, May 6 for their shot at the history books. We're thrilled to be cheering on a number of horses in the field with connections to our #VisitHorseCountry members. Congratulations to these horses, their connections, and our members who played a part in their success.

The G1 Kentucky Derby field, presented in post position order:
#1 Hit Show
#2 Verifying
#3 Two Phil's
#4 Confidence Game
#5 Tapit Trice

Sired by Tapit, standing at Gainesway Farm
Born at and bred by Gainesway Farm, and consigned by the farm at the 2021 Keeneland September Yearling Sale
Currently co-owned by Gainesway Stable with Whisper Hill Farm, LLC

#6 Kingsbarns
#7 Reincarnate
#8 Mage
#9 Skinner – SCR
#10 Practical Move – SCR
#11 Disarm
#12 Jace's Road
#13 Sun Thunder
#14 Angel of Empire
#15 Forte
#16 Raise Cain
#17 Derma Sotogake

Bred and raced in Japan, Derma Sotogake comes to the Kentucky Derby by way of the UAE Derby in Dubai
His sire, Mind Your Biscuits, was a popular G1-winning sprinter in the United States

#18 Rocket Can
#19 Lord Miles SCR
#20 Continuar SCR
#21 Cyclone Mischief

Sired by Into Mischief, standing at Spendthrift Farm
Sold at the Keeneland September Yearling Sale
Draws into the Kentucky Derby after three defections

#22 Mandarin Hero

Bred, raised and raced in Japan, Mandarin Hero placed a close second in the G1 Santa Anita Derby in his most recent start.
Draws into the Kentucky Derby after three defections.

#23 King Russell

Sired by Creative Cause, standing at Airdrie Stud
Bred by Brereton Jones' Airdrie Stud, which now co-owns the colt with Naber Racing, LLC
Draws into the Kentucky Derby after three defections.
Tune in to the Kentucky Derby on NBC and Peacock beginning at 12 p.m. ET on Saturday, May 6. Post time for the Kentucky Derby is set for approximately 6:57 p.m. ET.