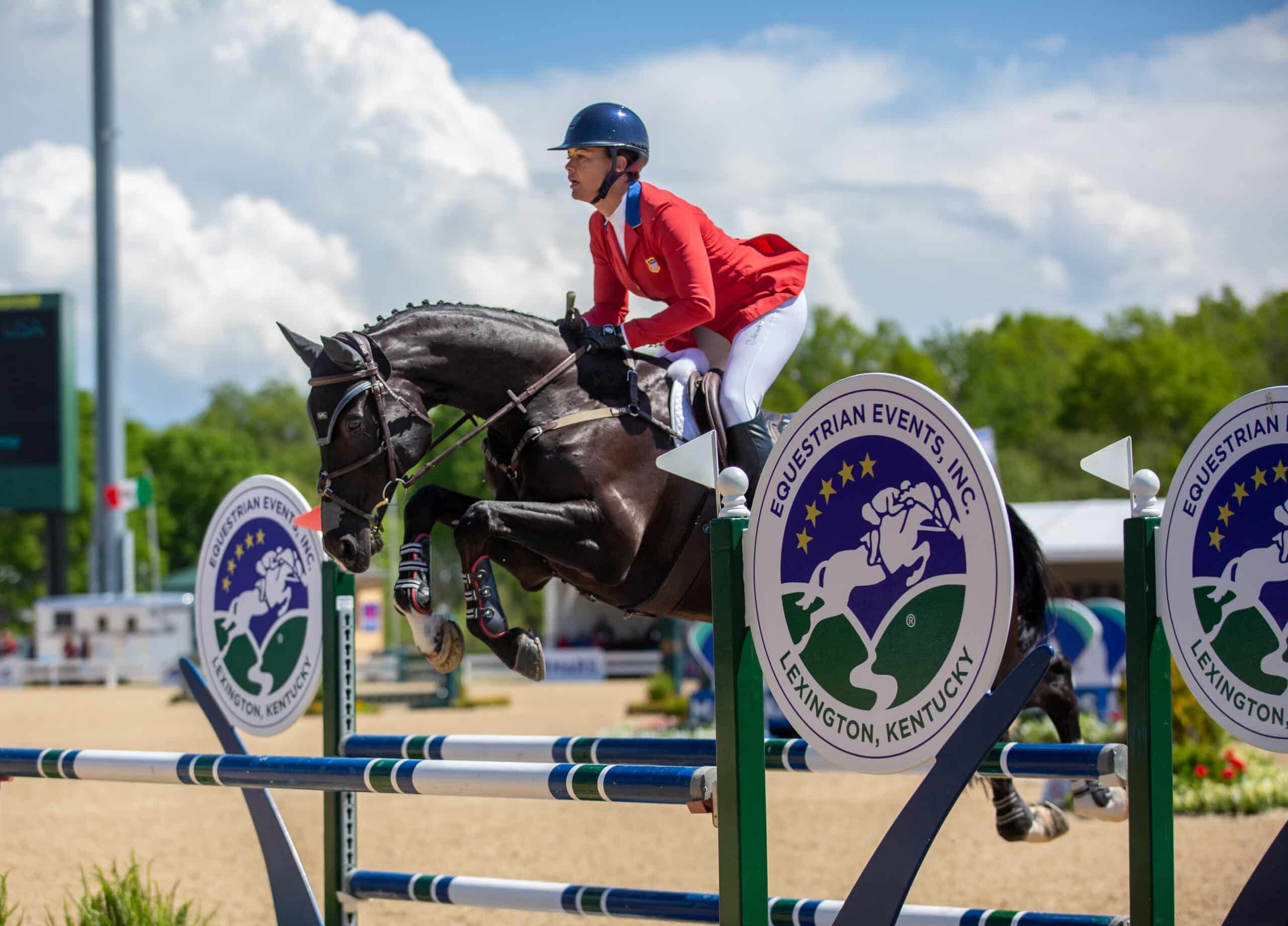 02 May

Land Rover Kentucky Three Day Event Recap

Each year, the last weekend in April is dedicated to sport horses here in Lexington, Kentucky. The Land Rover Kentucky Three Day Event presented by Mars Equestrian takes place at the Kentucky Horse Park and brings together some of the world's most talented horse and rider pairs to tackle three phases – dressage, cross country and stadium jumping – over the course of three days. The combination with the lowest number of penalties after all three disciplines is crowned the winner. This year, the event was particularly special for many competitors and fans

The event has grown into a celebration of equestrianism at the top level, with four competitions hosted during the weekend. The Land Rover Kentucky Three Day Event CCI5*-L is one of just seven 5* events in the entire world. The 5* level is the ultimate stage for eventing competitors, with many of these combinations either Olympic and World Championship veterans or hopefuls. Along with the headlining event, the Cosequin Lexington CCI4*-S Three Day Event and Kentucky Invitational CSI3* Grand Prix presented by Hagyard Equine Medical Institute drew top horse and rider pairs.

The Land Rover Kentucky CCI5* kicked off on Thursday, April 27 with the dressage phase, which is split over two days due to the volume of riders. Dressage is a test of harmony during which horse and rider complete a prescribed set of movements that emphasize grace and connection. Yasmin Ingham and Banzai Du Loir, World Champions representing Great Britain, were in the lead over fellow British rider Tom McEwen and JL Dublin after the dressage phase with a 22.1 and 22.6, respectively. Mai Baum and Tamie Smith of the United States rounded out the top three with a 24.2.

Cross country is arguably the most thrilling phase of eventing, and the day drew over 30,000 fans to the Kentucky Horse Park to watch horse and rider combinations tackle a four mile course of obstacles including jumps, ditches and water features as close to the optimum time as possible. A handful of jumping and time penalties led to a shift in the standings, with Tamie Smith and Mai Baum jumping to the top of the leaderboard after a double clear round. Great Britain's Tom McEwen and JL Dublin picked up a few time penalties to hold second place, and Elisabeth Halliday-Sharp and Miks Master C of the United States entered the top three with their double clear round on the cross country course.

The top three riders were separated by just 4.3 points headed into the final round, stadium jumping. The stadium jumping test calls upon both the harmony demonstrated in dressage and the scope shown during cross country to jump a course of obstacles that will easily fall, compared to solid cross country fences. Tamie Smith and Mai Baum delivered with a double clear round to become the first American competitor to win the first Land Rover Kentucky Three Day Event since Phillip Dutton in 2008, and the first woman to win since Mary King in 2011.

Smith and Mai Baum finished on their dressage score, 24.2, with McEwen and JL Dublin finishing on a 27.8 for second place and Elisabeth Halliday-Sharp and Miks Master C ending the weekend on a 28.5 for third place. As the highest placed American rider, Smith also took home the USEF CCI5*-L National Eventing Championship. Prize money of $400,000 was distributed among the top placings, along with awards recognizing the leading young rider, winning owner, winning breeder, grooms of the top placing horses and more.

The third annual Cosequin Lexington CCI4*-S took place throughout the weekend as well, following the same format as the Land Rover Kentucky CCI5*-L. Canadian rider Karl Slezak was the only rider in the entire competition to go double clear in both the cross country and stadium jumping divisions, finishing on his dressage score of 29.3 to win aboard the mare Hot Bobo. Tamie Smith piloted Solaguayre California to finish second with a score of 30, and Sydney Elliott and QC Diamantaire finished third with a score of 34.9.

In its third year, the Kentucky CSI3* Invitational presented by Hagyard Equine Medical Institute drew some familiar faces for fans of equestrian sport, including Olympians Margie Engle, McLain Ward, Rodrigo Pessoa, Shane Sweetnam and more. We had some great rooting interests in two Spy Coast Farm-bred horses, La Belle SCF and Orwell SCF (owned by Lane's End Show Jumping) competing in the event. Both horses are sired by Spy Coast Farm stallion Diktator van de Boslandhoeve.

After the first round, ten riders were tied with zero faults to head into a jump off. A thrilling conclusion to the event saw Daniel Bluman of Israel and his mare Gemma W win by a mere .87 seconds over Lacey Gilbertson of the United States and Karlin Van't Vennehof. Spy Coast Farm's resident show jumping trainer and competitor Shane Sweetman rounded out to podium in third place aboard his gelding James Kann Cruz.

Along with elite competitions, Land Rover Kentucky is known for shopping, educational demonstrations and more. The Secretariat Center hosted a demonstration about what to look for when purchasing an OTTB with champion jockey Rosie Napravnik, and New Vocations and Hagyard Equine Medical Institute welcomed guests to their booths to learn more about their respective organizations.


Mark your calendars for the 2024 Best Weekend All Year, April 26-29 and learn more on the Land Rover Kentucky Three Day Event website!