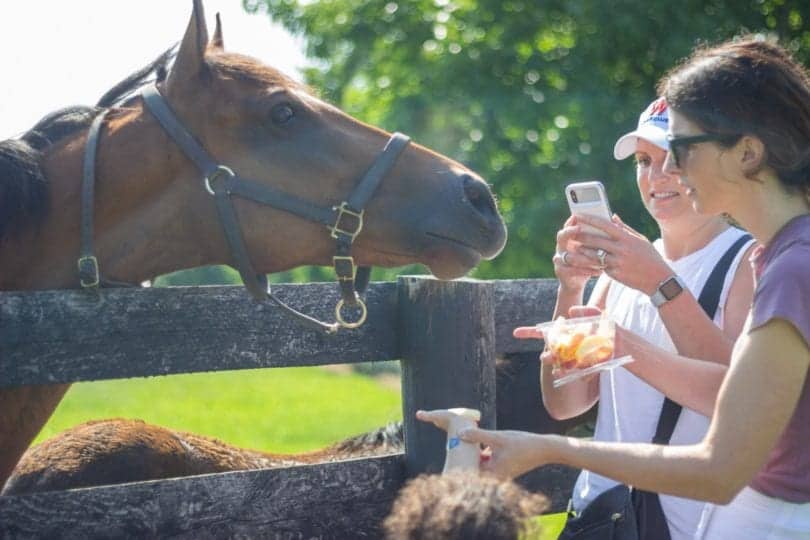 13 Aug

5 Things to Do in the Bluegrass

Can't miss experiences for your authentic stay in Kentucky

Whether you're coming in for the fall meet at Keeneland, taking a girls' trip, or hitting up some distilleries on the Kentucky Bourbon Trail, we want you to have the inside track on the locals' favorite things to do in the area!
All things equine! By visiting one of every category of experience in Horse Country, not only do you complete an official Horse Country passport path, you also get to experience the entire life cycle of an equine athlete – from foaling barn to finish line (and beyond!) is one of our favorite things to say! Be sure you make time for a stud farm, a nursery farm, a sport horse farm, a training track, an aftercare facility, a clinic and a feed mill! Can't make them all? No worries – even just a few stops will be great fun; we've done some itinerary planning for you here!
---
2. Eat locally. Lexington and the surrounding area is full of amazing restaurant concepts and farmers who supply them. Our friends at Ouita Michel's restaurants were farm-to-table before it was cool- and now with seven concepts in eight locations, you can catch some of their delicious food in any corner of Horse Country.
Photo: Honeywood Facebook

photo: Honeywood Facebook
There's delicious coffee, world-class steakhouses, neighborhood pizza joints, tucked away sushi dives, BBQ served til it runs out…What we're saying is, make sure you bring your appetite to Kentucky.
---
3. Get outside! The scenery is a lovely backdrop for farm tours and long, lazy drives (check out the Old Frankfort Pike stretch from US 60 to downtown LEX!) – but we also have some killer outdoor activities. Red River Gorge is less than an hour away. We have 12 miles of biking paths in Lexington. The Arboretum is family -friendly and great for walking. Zip lining, dog parks, lakes -there is something for everyone looking for some fresh air in Kentucky!
4. Do the bourbon – even if you don't drink. Ninety-eight percent of the world's bourbon is produced in Kentucky (yes, you read that right. 98% of the world…) So even if you don't drink it, you can probably appreciate it from a perspective of : agriculture, economic impact, marketing, workforce development, history, law, manufacturing, logistics, politics, tourism, and so much more. It's part of who we are and what makes us special.

5. Music! Indeed we're the birthplace of Bluegrass (there's a lovely museum in Owensboro, KY) – and we're so much more. Louisville just this September has not one, not two, but three music festivals – this in addition to their annual Forecastle Festival. We just hosted and epic weekend at iconic Keeneland – Lexington's inaugural Railbird festival, which brought indie darlings Brandi Carlile, Tyler Childers and Mavis Staples – and more! -to town. It wasn't just the music that rocked; our southern hospitality and local culture seemed to deliver too. You don't have to take our word for it … Rolling Stone covered the scene and we're still glowing! Not here during a festival? No worries – check out local favorite the Burl for live tunes.