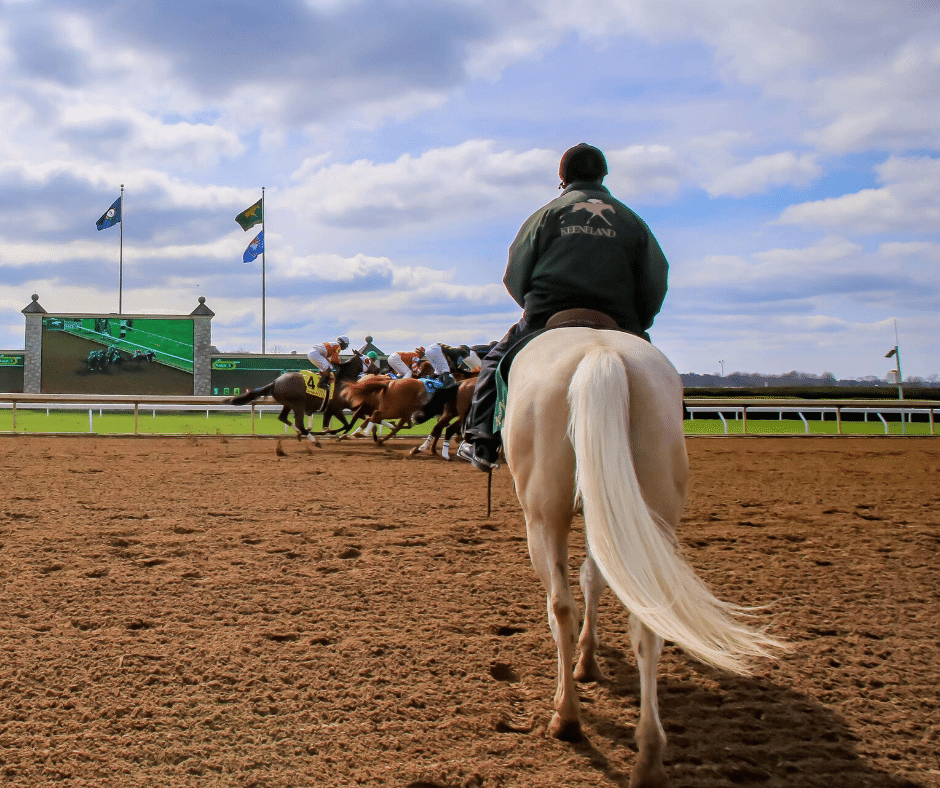 06 Apr

Keeneland Spring Meet Preview

The unofficial start of spring in the Bluegrass is upon us – the Keeneland Spring Meet kicks off on April 7! The spring meet runs from April 7 to April 28, with races taking place on Wednesdays – Sundays, excluding Easter Sunday, April 9. Tickets must be purchased prior to arriving at the track, and they can be found here. 

Keeneland's spring meet is the perfect combination of great racing and great Kentucky culture, from the food to drinks, outfits and more!
Visit Keeneland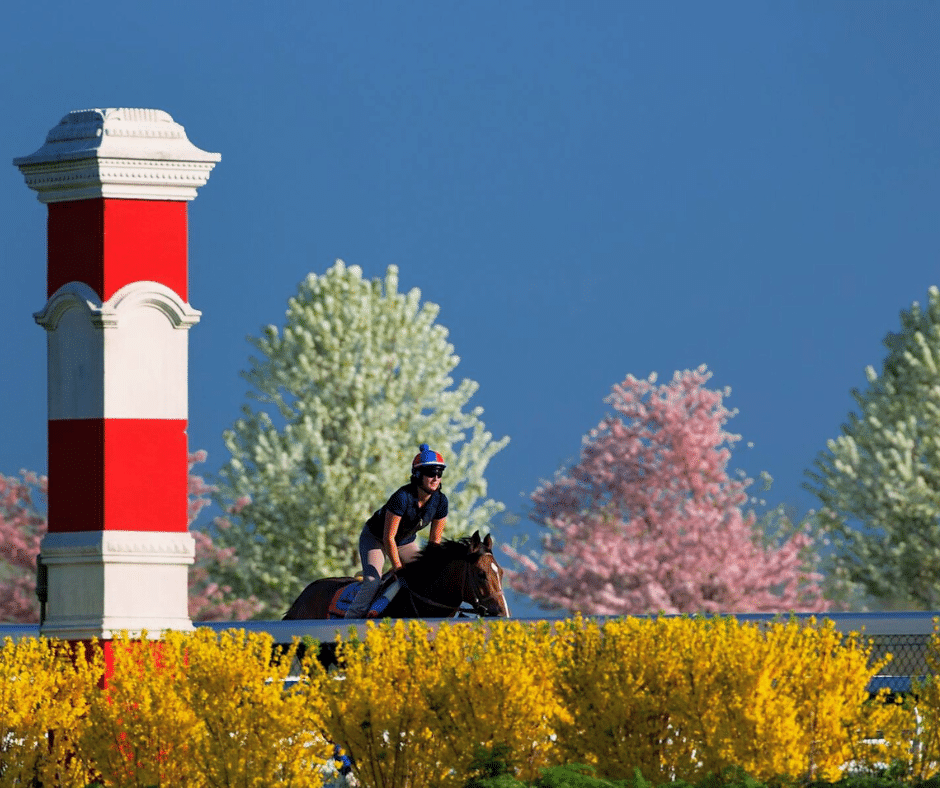 We're proud to offer tours throughout the Keeneland meet (and the rest of the year!), which can be found by clicking here. One of our top recommendations is to stop by in the early hours of the day to watch morning training, which takes place from 5:30-10am each morning (we've got a tour for that, too!). You'll get the chance to see horses exercising on the track, and trust us when we say that there is nothing like a morning spent on the rail. Once training is done, head over to the Keeneland Track Kitchen for a hearty breakfast before a day at the races.

Be sure to tune into the races – or even better, join in the fun at the track! While you're in town for the races, be sure to check out some of our horse farm tours, which can be viewed by clicking here (P.S. – be sure to check out the filters to choose your preferred dates and number of guests for the most accurate listing of available tours for your party).
Top-Class Thoroughbred Racing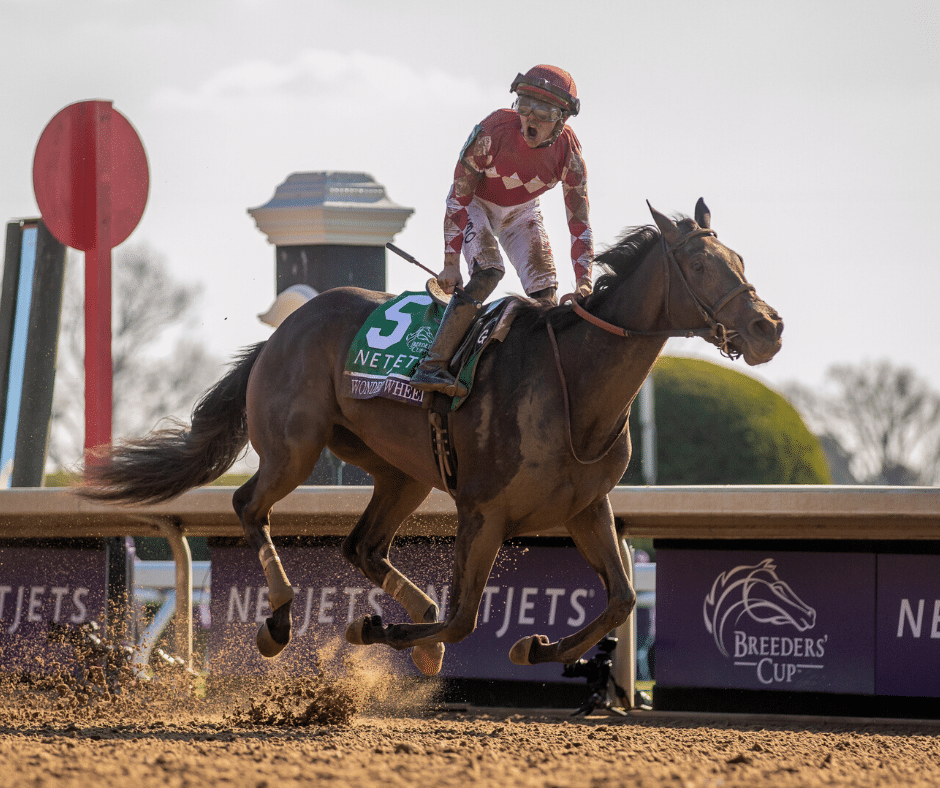 The race meet kicks off with top races for three year olds in the G1 Ashland Stakes and the G1 Blue Grass Stakes. Both races provide points to the top finishers in route to the Kentucky Oaks and Kentucky Derby, respectively.
The G1 Ashland Stakes is race nine on Friday, April 7 with a post time of 5:16 p.m. ET, and has 170 Kentucky Oaks points on offer to the top five finishers. We hate to pick favorites, and in this case, we don't have to! Each of the seven contenders has a connection to Horse Country (how cool is that?!).
The G1 Blue Grass Stakes is race nine on Saturday, April 9 with a post time of 5:15 p.m. ET, and has 170 Kentucky Derby points on offer to the top five finishers. Half of the field has a connection back to Horse Country, so we've got a few rooting interests in one of the final prep races for the Kentucky Derby.
Tapit Trice – sired by Tapit, standing at Gainesway Farm and bred by Gainesway (co-owners with Whisper Hill Farm, LLC).
Verifying – sired by Justify, standing at Coolmore's Ashford Stud.
Hayes Strike – sired by Connect, standing at Lane's End Farm.
Scoobie Quando – sired by Uncle Mo, standing at Coolmore's Ashford Stud.
Blazing Sevens – sired by Into Mischief, standing at Spendthrift Farm.
Mendelssohns March – sired by Mendelssohn, standing at Coolmore's Ashford Stud.
Plus, be on the lookout for the return of three Breeders' Cup World Champions to the site of their victories last fall – Caravel in the G2 Shakertown Stakes (Breeders' Cup Turf Sprint winner) Goodnight Olive in the G1 Madison Stakes (Breeders' Cup Filly & Mare Sprint winner) and Wonder Wheel in the G1 Ashland Stakes (Breeders' Cup Juvenile Fillies winner).
Sally's Picks – Tips from a Keeneland Ambassador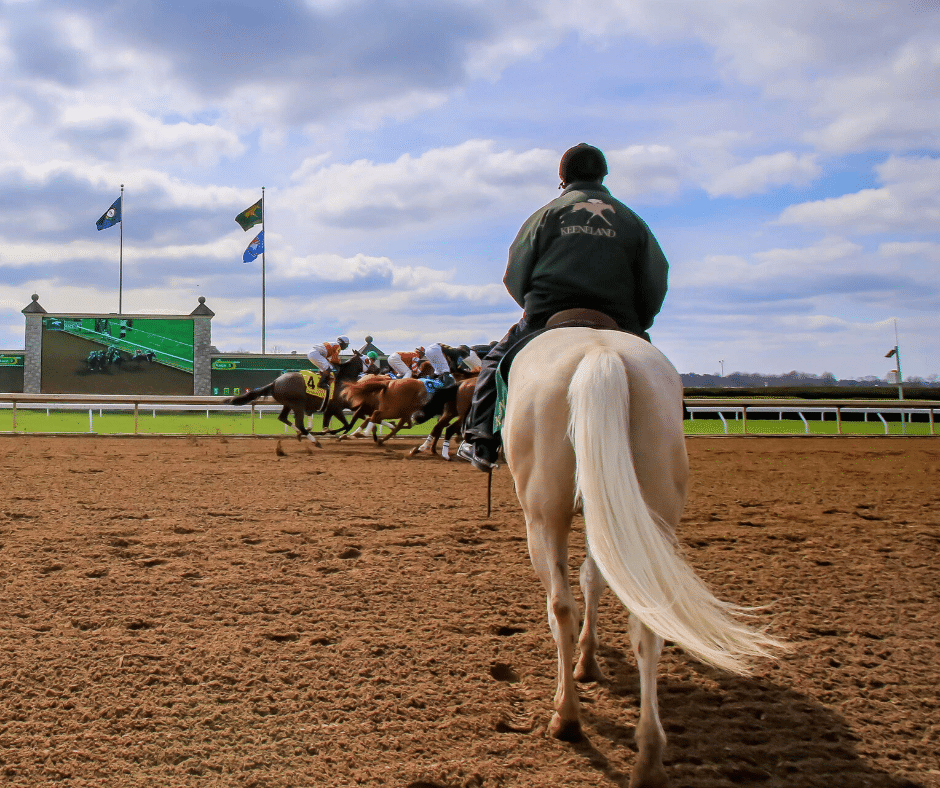 One of our team members, Sally Englander, is a Keeneland College Ambassador as well as a Horse Country intern. When she's not helping to curate the perfect experience for your time in Horse Country, she is at the races and chatting about all things Keeneland! She put together her list of must do, see and eat items for the Keeneland spring meet below.
Food & Drinks
Keeneland's Famous Bread Pudding
A great blend of sweetness and bourbon in one delicious dessert, best served warm with bourbon glaze on top and best enjoyed while outside trackside watching the races! If you've ever wished you could make this Keeneland classic at home, you are in luck! Marc Therrien, Executive Chef for Keeneland Hospitality gave the Kentucky Distillers Association a step-by-step recipe, click here.
Keeneland Breeze
For those of the age of 21, my best drink recommendation for those who want to taste Kentucky in a drink would be the Keeneland Breeze. This bourbon based drink is a classic to sip while placing your bets on your favorite horses!
Places to Visit at Keeneland
Saddling Paddock
Before I ever place bets, I have to go to the Saddling Paddock to pick the horse that catches my eye. You get a glimpse of the horses' energy before the race and get an up close look at them before they go to the track.
Sales Pavilion
I absolutely love the Sales Pavilion. It has a timeless look with Keeneland green filling the interior. This is where some of the world's top Thoroughbred sales happen in January, April, September, and November.
…and of course the finish line is a fun place to visit and maybe you'll get the chance to capture a photo finish!
Top Horse Country tour picks
Spy Coast Farm Grand Tour | 10:30am-12:30pm
Take a break from the Thoroughbreds and head over to the sport horse capital of Lexington. This tour is one of my favorites because of the diversity You get to see the rehabilitation center, stallions, young horse development center, and mares and foals division! It is also a very interactive tour, you can pet and feed the horses on the property!
Spendthrift Farm Stallion Complex Tour | 12:30pm-1:30pm
Located right down the street from Spy Coast, Spendthrift Farm is a top international thoroughbred breeder! They are home to greats such as Into Mischief, Authentic, and Jackie's Warrior. They also have the newly built B. Wayne Hughes Visitor's Center, where you can buy all the Spendthrift and Horse Country merchandise.