Kentucky is known as the Horse Capital of the World for a number of reasons – we raise, race and care for some of the best horses here in the Bluegrass.
These experiences are a recommendation of ways to dive deeper into the life cycle of some of the fan favorites that call the Bluegrass home. Suggested tours might visit a place where a horse was raised, sold, raced or currently resides, along with other suggestions involving their racing rivals or family members.
Please note that all tours have to be booked separately, and we cannot guarantee any particular horse on any particular tour. All showings are made based upon the health and daily schedule of the equine residents
---
Bred and raised in Kentucky by Peter Blum Thoroughbreds, Authentic rose to fame with his dominant three year old racing campaign. This fan favorite colt took his connections on the ride of a lifetime with victories in the Kentucky Derby, Breeders' Cup Classic and more in 2020.
Learn more about Authentic's journey from foaling barn to finish line, and beyond.
Keeneland – September Yearling Sale Graduate
Authentic's connections to Horse Country began at an early age when he went through the Keeneland sales ring during the 2018 Keeneland September Yearling Sale. The son of Into Mischief sold for $350,000 to an ownership group that would go on to race him along with additional partners.
Did you know that you can get a behind the scenes tour of Keeneland? Visit the home of the world's largest yearling sale and two prestigious months of racing on a tour of Keeneland. To learn more about Keeneland Sales, we recommend the Behind the Sales tour or the Morning Works tour.
---
Keeneland – 2020 Breeders' Cup
Following an impressive Kentucky Derby win, Authentic set his sights on the 2020 Breeders Cup Classic for his return to Keeneland for the first time since he sold there as a yearling. Authentic took on a tough field to win wire to wire by 2 ¼ lengths. His victory in the Breeders Cup Classic made him just the fourth horse in history to win the Kentucky Derby and the Breeders Cup Classic in the same year!
Learn more about the racing and training that takes place at Keeneland on one of their tours. The Road to the Breeders' Cup experience, offered exclusively in October 2022, provides a unique look at the ways in which both the racecourse itself and the horses prepare for such a large event!
---
Spendthrift Farm – Stallion duty alongside his sire Into Mischief
After a busy racing career, Authentic retired to stand stud at Spendthrift Farm in 2021. He currently stands stud alongside his sire, Into Mischief, one of the leading sires in North America. Swing by Spendthrift Farm for a chance to see Authentic and Into Mischief, and learn even more about Authentic's racing and breeding career.
If you're interested in visiting the stallion complex, we recommend the Visit Spendthrift Farm tour.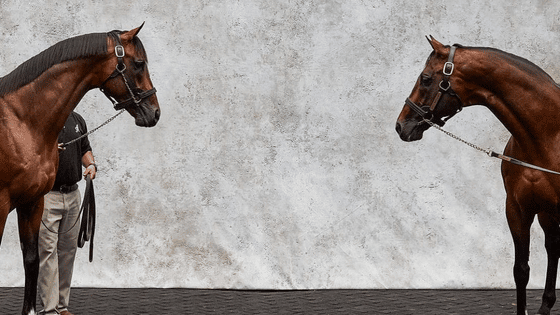 ---
Racing Rival – Honor A.P. at Lane's End Farm
Every good athlete has a rival to test their grit and talent, and Authentic was no exception! During his racing career he battled it out on the track with Honor A.P. in the Kentucky Derby, Santa Anita Derby and the San Felipe Stakes. Now these two are competitors at stud!
You can learn more about Honor A.P. by visiting Lane's End Farm, where he now stands stud alongside his sire Honor Code!