03 Sep

Mill Ridge Farm's Spicy Pepper Jelly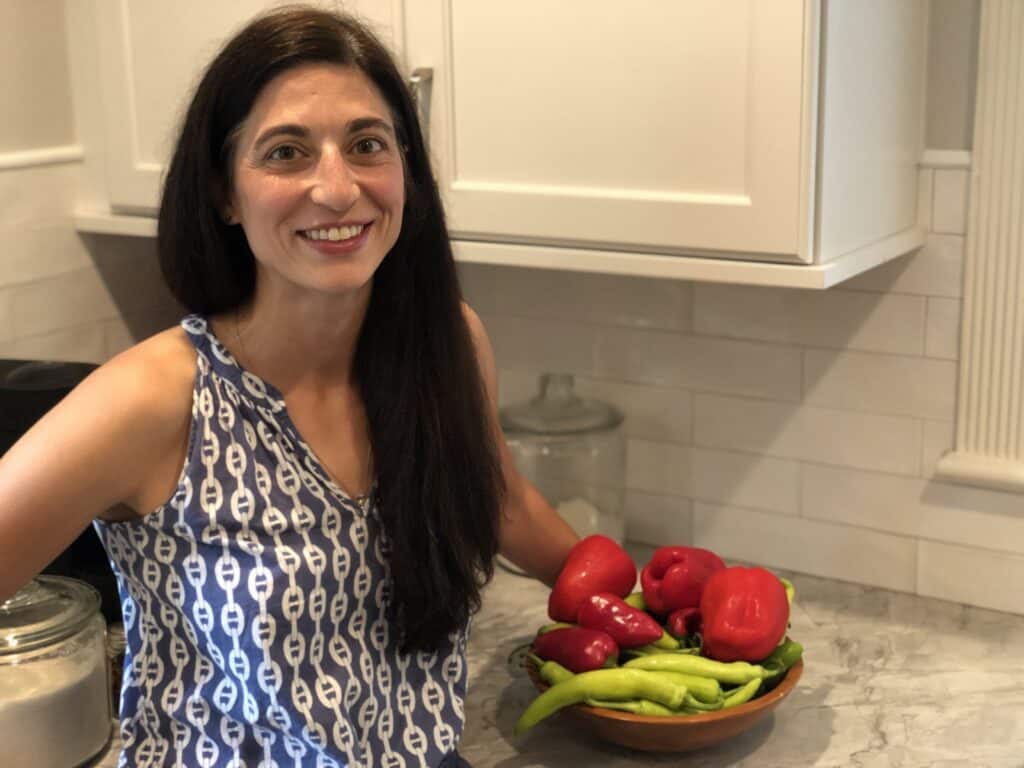 One of the most fun things about Derby time is learning how other people celebrate – traditions, superstitions, wardrobe, food, wagering, hopes and dreams….Derby has a little bit of everything! We've caught up with Mill Ridge Farm Manager Price Bell & his wife Beth for a peek into their Derby memories – and their kitchen! We hope you enjoy our visit as much as we did. Pro tip! Scroll to the bottom for the text recipe including instructions on how to can the pepper jelly! Happy Derby, friends!


Beth, do you remember your first Derby?
Absolutely. The first time I went to the Derby was a few years before I met Price. I was a year out of college and a group of friends who live in Lexington and Louisville invited me to join. We had a picnic on the backside–I have no idea how we got over there or who let us in–but we posted up by a fence and got to see the horses up close which was awesome, although, we had no idea who won the race! Turns out, the winner that year was Barbaro, which Headley did the mating for, and whose mother La Ville Rouge lived at Mill Ridge! A sign of things to come? Very spooky!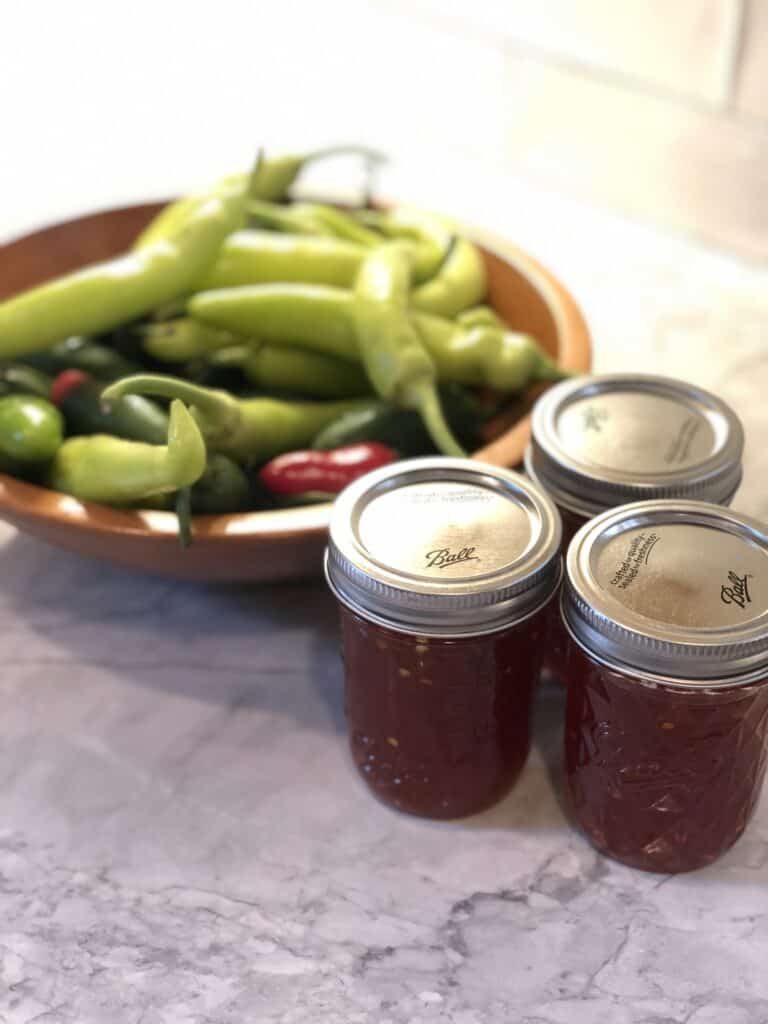 Do you have any favorite Mill Ridge or Bell family Derby traditions?
What's so funny about the Derby in the Bell household is that we never know what our plans are until the last minute. Sometimes a client has a horse running that day and we let them use the tickets. We typically don't know if we're going and who is going until a week or so before, which makes planning a derby outfit and hat very tricky!

We love this pepper jelly recipe! What else do you love on a Derby Day spread?
Usually, fried chicken is a staple. Our dear Save-a-Lot on Southland Drive which makes the world's best fried chicken recently closed, so that's been a huge blow to our menu this year. I refuse to fry chicken at home. Thankfully, the folks at Critchfield's are planning to re-boot the Save-a-Lot space and continue to sell fried chicken. Here's hoping they get it up and running again soon!

Tips for sharing Derby fun with the kids? How to get them involved?
I'm afraid we've introduced gambling fairly early with our kiddos. In years past, when we've had friends over to watch the Derby, we auction off the Derby field. Price describes each horse and their pros and cons and then we auction off who "gets" each horse. Then we pool all the money and if your horse wins you get the pot. We let our children participate, which is hilarious because the littlest ones have no idea what's going on; the 8 year olds and up do and they are ready to play! I'm afraid we're teaching them bad habits.
Beyond the Derby, how can people learn more about the sport and the tremendous care the horses receive year-round and beyond the track?
Visiting the farms where these horses are bred, born, and raised is such a great way to understand the full scope of how these horses eventually end up at the racetrack. Before I met Price, I don't know that I had given it that much thought. After visiting Mill Ridge for the first time, it started to hit me just how difficult of a sport this is and how tough it is to make it to the Oaks and Derby. We are beyond fortunate to have so many Oaks and Derby connections throughout Mill Ridge's history. We welcome visitors any time to come see us at the farm, pet a few mamas, and hear a few amazing horse tales (pun intended).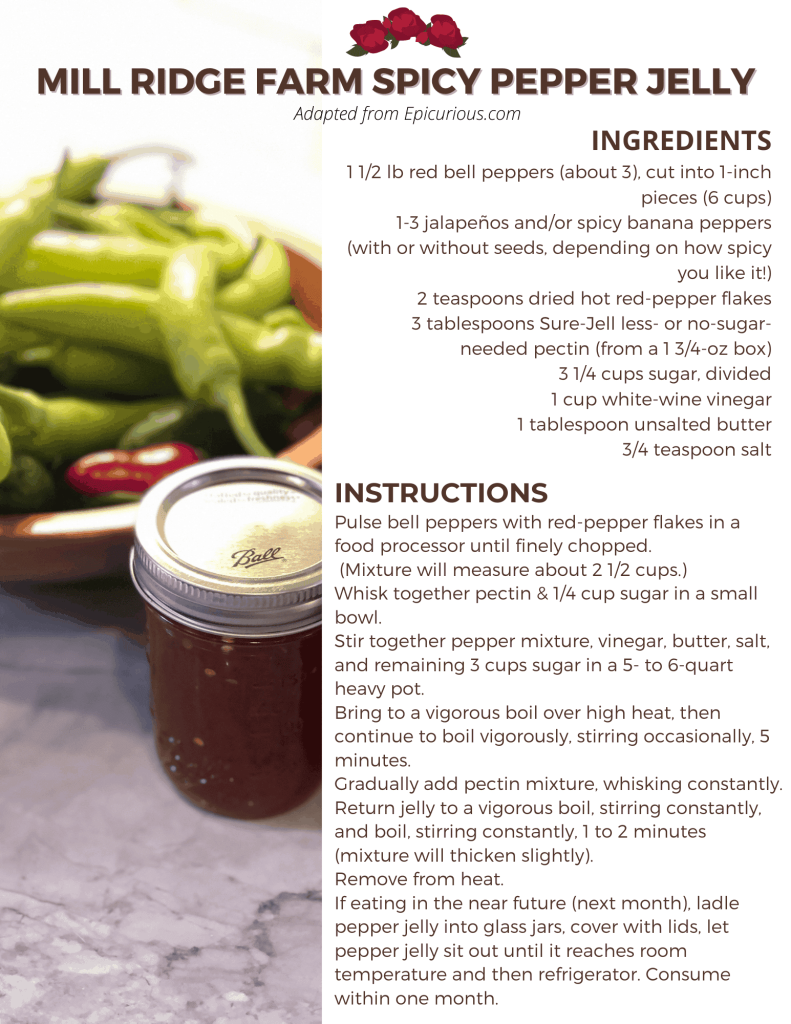 To stay up to date on all things Mill Ridge, be sure to follow them on Facebook & Instagram. Since mid-March, the team at Mill Ridge has conducted weekly virtual tours including visits with their stallion OSCAR PERFORMANCE, their mares and foals, deep dives into Mill Ridge history, and so much more. Be sure to check out some of those tours here.
---
Mill Ridge Farm's Spicy Pepper Jelly
Adapted from Epicurious.com
Makes 4 to 5 (1/2-pint) jars
1 1/2 lb red bell peppers (about 3), cut into 1-inch pieces (6 cups)
1-3 jalapeños and/or spicy banana peppers (with or without seeds, depending on how spicy you like it!)
2 teaspoons dried hot red-pepper flakes
3 tablespoons Sure-Jell less- or no-sugar-needed pectin (from a 1 3/4-oz box)
3 1/4 cups sugar, divided
1 cup white-wine vinegar
1 tablespoon unsalted butter
3/4 teaspoon salt
Pulse bell peppers with red-pepper flakes in a food processor until finely chopped. (Mixture will measure about 2 1/2 cups.)
Whisk together pectin and 1/4 cup sugar in a small bowl.
Stir together pepper mixture, vinegar, butter, salt, and remaining 3 cups sugar in a 5- to 6-quart heavy pot. Bring to a vigorous boil over high heat, then continue to boil vigorously, stirring occasionally, 5 minutes. Gradually add pectin mixture, whisking constantly. Return jelly to a vigorous boil, stirring constantly, and boil, stirring constantly, 1 to 2 minutes (mixture will thicken slightly). Remove from heat.
If eating in the near future (next month), ladle pepper jelly into glass jars, cover with lids, let pepper jelly sit out until it reaches room temperature and then refrigerator. Consume within one month.
If canning, see equipment and instructions needed below.
Special Equipment Needed, if Canning:
5 (1/2-pint) canning jars with screw bands and lids
candy thermometer
canning tongs
Sterilize jars and lids:
Wash jars, lids, and screw bands in hot, soapy water, then rinse well. Dry screw bands. Put empty jars on a rack in a boiling-water canner or a deep 8- to 10-quart pot and add enough hot water to cover by 2 inches. Bring to a boil, covered, then boil 10 minutes. Remove canner from heat, leaving jars in water, covered. Heat lids in water to cover by 2 inches in a small saucepan until thermometer registers 180°F (do not let boil). Remove from heat. Keep jars and lids submerged in hot water, covered, until ready to use.
Carefully remove jars and lids with canning tongs, then drain jars upside down on a clean kitchen towel and quickly dry lids. Invert jars and immediately ladle hot jelly into jars, leaving 1/4 inch of space at top. (Last jar may not be full.) Run a clean plastic spatula between jelly and sides of jars to eliminate air bubbles. Wipe off rims of filled jars with a damp clean kitchen towel, then firmly screw on lids with screw bands.
Seal and process jars:
Put sealed jars on rack in canner or pot and add enough hot water to cover by 2 inches. (If you have a jar that is partially full, do not process it. Cover it with a lid and screw band, then keep in refrigerator.) Bring to a full boil, covered, then boil jelly, covered, 15 minutes. Transfer jars with canning tongs to a towel-lined surface to cool. Jars will seal; if you hear a ping, that means that the vacuum formed above the cooling jelly has made the lid concave. Remember that you may or may not be around to hear the ping. The important thing is for the jars to eventually have concave lids. Jelly will thicken as it cools.
After jars have cooled, 12 to 24 hours, press center of each lid to check that it's concave, then remove screw band and try to lift lid with your fingertips. If you can't, the lid has a good seal. Replace screw band. Put any jars that haven't sealed properly in the refrigerator and use them first (along with jar that was only partially full).
Cooks' Note:
•Check the expiration date on your pectin to ensure freshness.
•If you are using jars with rubber rings (still sold, but not approved by the USDA), follow the manufacturer's instructions.
•Jelly keeps in sealed jars in a cool dark place 5 to 6 months.