Kentucky is known as the Horse Capital of the World for a number of reasons – we raise, race and care for some of the best horses here in the Bluegrass.
These experiences are a recommendation of ways to dive deeper into the life cycle of some of the fan favorites that call the Bluegrass home. Suggested tours might visit a place where a horse was raised, sold, raced or currently resides, along with other suggestions involving their racing rivals or family members.
Please note that all tours have to be booked separately, and we cannot guarantee any particular horse on any particular tour. All showings are made based upon the health and daily schedule of the equine residents
---
Horse Country Champion Connections: Gun Runner
Bred in Kentucky by Besilu Stables, LLC, Gun Runner's career spanned 19 starts in four racing seasons. He earned over $15 million in his time on the track with victories in the G1 Breeders' Cup Classic, G1 Pegasus World Cup and four other grade one races.
Learn more about Gun Runner's journey from foaling barn to finish line, and beyond.
WinStar Farm – Born and Raised
Gun Runner's connections to Horse Country began at birth when he was born and raised at WinStar Farm in 2013. He is out of the Giant's Causeway mare Quiet Giant, and is a son of the great Candy Ride (ARG). After being weaned from his mother, Gun Runner moved to Three Chimneys Farm, who had privately purchased him from Besilu Stables, LLC.
You can learn more about WinStar Farm on one of their tours! If you are interested in their nursery division and the process of raising mares and foals, we recommend the Extended Shuttle Tour!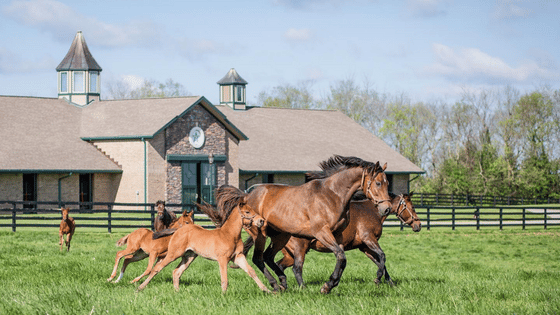 ---
Three Chimneys Farm – Stallion Duty
After his tremendous racing career, Gun Runner retired to Three Chimneys Farm, who owns him in partnership with Winchell Thoroughbreds. He stood his first season in 2018 for $70,000, and now stands for a private stud fee.
Gun Runner's first crop to race was about as impressive as they come – with G1 Breeders' Cup Juvenile Fillies winner Echo Zulu, G1 Preakness Stakes winner Early Voting and three other G1 winning progeny.
Three Chimneys is open for tours during April and October, coinciding with the Keeneland race meets. This year they have extended dates for Breeders' Cup week as well!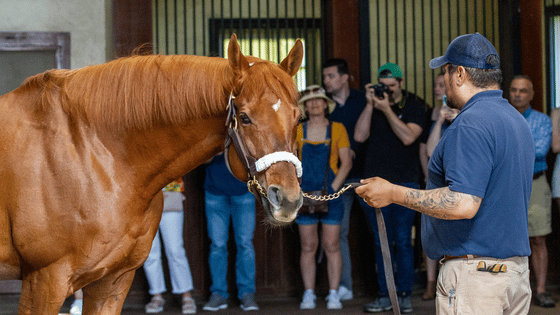 ---
Racing Rivals – West Coast at Lane's End Farm
Every good athlete has a rival to test their grit and talent, and Gun Runner was no exception! On the track he competed against West Coast. West Coast finished second to Gun Runner in the G1 Pegasus World Cup, and third behind Gun Runner and Airdrie Stud resident Collected in the G1 Breeders' Cup Classic.
Gun Runner's sire Candy Ride also stands at Lane's End Farm. A grade one and group one winner in his own right, Candy Ride has six Eclipse Champions among his progeny, including Gun Runner.
Stop by Lane's End Farm for a chance to see Candy Ride and West Coast, and learn more about the Thoroughbred stallions and the breeding industry.